Bracknell Forest residents rewarded for recycling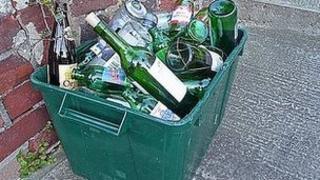 Residents who put their waste out for recycling are to receive reward points from a Berkshire council.
Golf and swimming are among the leisure activities being offered by Bracknell Forest Council in an attempt to boost its recycling rate.
Nearly 2,000 residents have signed up for the scheme, made possible with a £108,000 grant from Defra.
A campaign group warned such schemes could encourage people to act only if there was a reward on offer.
'Innovative and different'
Claire Lewis, the council's waste disposal and recycling manager, said Bracknell was using its own recycling smartcard rather than giving residents rewards vouchers.
"We had to come up with something innovative and different to get the Defra funding," she said.
Each time a resident leaves out their recycling they will be credited with 200 points.
The rewards are kept within the local borough. They also include tickets to a water park and library DVD rentals.
Tim Burns, the head of Waste Watch - part of Keep Britain Tidy - said councils should be cautious about reward schemes.
"Whilst Waste Watch believes encouraging people to recycle is a good thing, there is also evidence that suggests self-rewarding people for good behaviours may encourage people only to act in the future if rewarded, rather than acting because they care or value society and the environment," he said.
Bracknell's scheme will start on 1 April.