Two portable wards lifted in at Wexham Park Hospital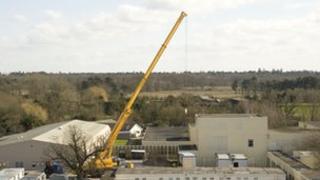 Two portable wards have been lifted into place at a Berkshire hospital.
Wexham Park Hospital, near Slough, ordered the "pods" in November to deal with unexpectedly high demand.
The new wards, built to last for 25 years, cost a total of £1m, including about £300,000 for equipment, and will provide 28 beds combined.
The buildings were prepared off-site and lifted into place by a crane. They are expected to take their first patients by the start of April.
Health trust chief executive Philippa Slinger said hospitals nationwide had been under pressure due to a higher number of emergency admissions in the last 12 months, though she said no one was certain why demand had increased.
She said many Wexham patients had been "massively inconvenienced" by cancellations of pre-planned surgery as a result.
Ms Slinger admitted the wards were not the "long-term solution" but said they were "a pragmatic way of dealing with the problem quickly".
The new wards will provide 16 beds for planned surgery patients and 12 for emergency admissions.