Reading Half Marathon route potholes 'worst ever'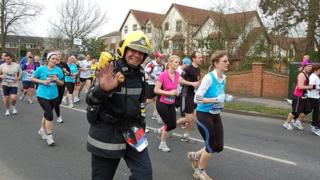 The Reading Half Marathon race director says he has safety concerns after finding the highest number of potholes in the event's history along the route.
Chris Sumner said he found about 50 potholes which had to be filled in by the council ahead of Sunday's event.
He added the holes were a risk to the 8,500 runners who could have "twisted their ankle or broken a leg".
Reading Borough Council said this week it had approved £1.6m to be spent on road surfacing, to start this summer.
'A nightmare'
A council spokesman added: "We have carried out a significant amount of work along the half-marathon route over the last few weeks repairing the worst of the potholes, and went out with race organisers again on Friday to identify last-minute repairs."
The race is the second largest half marathon in the country and is popular with runners training for the London Marathon in April.
But Mr Sumner said the town's poor road surfaces had become "a nightmare" for him.
"He said: "There used to be just four or five potholes, now it's so bad it's almost impossible to know where to start.
"It's much worse this year than it's ever been before."
He said he had identified holes and road surface cracks mainly where service companies had dug up roads to fix or lay pipes and cabling.
The council blamed "exceptional levels of rain last year, followed by snow and ice", which caused damage "across the country".