'Oldest settlement' finds from Kingsmead Quarry to go on show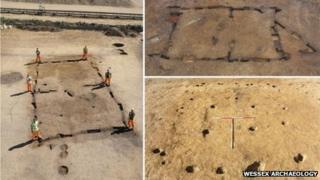 An exhibition will be held to showcase the rare archaeological discoveries made in a Berkshire quarry and the stories behind them.
Among the finds at Kingsmead Quarry, Horton, were four Neolithic houses thought to make up one of the oldest settlements ever found in England.
Other finds at the site suggest people have used the area since the end of the last Ice Age, about 12,000 years ago.
The free exhibition will be at Wraysbury Village Hall on 27 April.
Archaeologists, who have been excavating on the site for 10 years, said the discovery of the 5,700-year-old Neolithic house foundations was "unprecedented".
Flint tools
Dr Alistair Barclay, of Wessex Archaeology, said it was the first time more than one house from this time had been found on a single site in England.
They are from a time when the people of Britain were switching lifestyles from hunter-gathers to settled farmers, he added.
Pottery, flint tools, arrowheads, rubbing stones for grinding corn and charred food remains, including cereal and hazelnut shell, were recovered from the buildings, indicating the inhabitants were farmers.
Many items will be on display at the exhibition.
Excavations on the site near Windsor will carry on for the next two years and there could be more houses within the settlement that have not yet been discovered, Wessex Archaeology said.
The quarry is owned and run by Cemex, which extracts sand and gravel from the site.
Archaeological layers lie beneath the modern ground surface, but above the natural gravel, which means they need to be investigated before any extraction can take place.
So far, more than 28 hectares of the quarry have been examined.