Slough MP donates £14,268 to Comic Relief after 'naive' Twitter pledge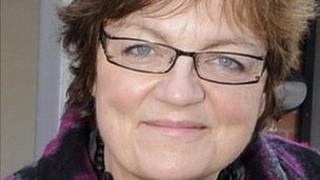 A Berkshire MP is donating £14,268 to Comic Relief after posting a "naive" Twitter message saying she would pledge £1 to the charity for every retweet.
Slough MP Fiona MacTaggart posted the message at 20:25 GMT and gave people a retweet deadline of 21:00.
The Labour MP thanked the 14,268 retweeters for "being so generous for me" and posted that she had "no regrets" despite being "Twitter naive".
She called accusations she would claim the money back on expenses "sad".
'Chicken costume'
"I knew it would be a lot but it was more than I expected," Ms MacTaggart said, "I had expected to give around £10,000 but there you go, it was a risk I took".
She said she wanted to come up with an interesting way to encourage others on Twitter to donate to Comic Relief.
"Someone from Australia retweeted it and said she gave 30 Australian dollars so that's rather wonderful".
She added: "The thing about Comic Relief is about being quirky about giving.
"The first time I did any support for Comic Relief I was a teacher and I taught for a day dressed up as a chicken."
She attracted some critical tweets about her donation, such as @greyfox63 who wrote the MP would "probably claim it back on her expenses form anyway".
Ms MacTaggart responded: "So sad so many people said this. I won't."
The MP, who has represented Slough since 1997, is the daughter of the late multimillionaire property developer Sir Ian MacTaggart and inherited a large portion of his estate.
Of her donation she said: "It is a pretty big chunk from my savings but I can afford it."
But she added she would not be posting any more Twitter donation pledges.