Thatcham Cold Ash Hill's flood 'basin' awarded £700,000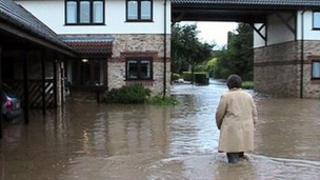 About £700,000 has been awarded to help fund the first of three "basins" designed to reduce the risk of flooding in a Berkshire town.
The basin at Cold Ash Hill in Thatcham will collect excess water from the fields and filter it into the sewers.
Thatcham was devastated by severe floods in July 2007 with about 1,000 homes damaged by flood water which rose to 4ft (1.2m) in places.
Construction of the Defra-funded basin is expected to start in late summer.
The plans are subject to approval. The other proposed basins are at Tull Way and Dunstan Park.
'Good news'
The problems were caused by sudden heavy rainfall which came rolling down the hills that surround the town and flowed straight into houses.
Jon Winstanley, head of highways and transport at West Berkshire Council which is managing the works, said: "The purpose of the retention basins will be to store the floodwater as it runs off the fields and then release it into the underground sewers at a rate that they can cope with."
Mayor of Thatcham, John Boyd, said the works were "really good news" for residents in the town and said they should prevent flash flooding in the future.
The total cost of the construction of the basin at Cold Ash Hill is expected to be just over £800,000 with the remainder of the funding coming from West Berkshire Council, Thatcham Town Council and Cold Ash Parish Council.
The proposed basins at Tull Way and Dunstan Park have each received £50,000 from Defra to fund design plans.
Another 1,500 properties in other parts of west Berkshire were also hit by the floods six years ago.