Slough charity given abandoned airport toiletries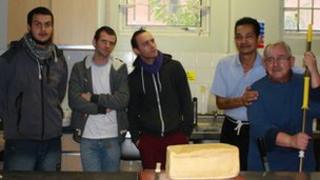 A recruitment company has struck a deal with Heathrow Airport to give abandoned toiletries to the homeless.
Muse Resourcing has arranged for items handed in by passengers at security check-ins to be donated to a Slough charity and not incinerated.
Georgie Takhar, director of the Maidenhead-based practice, thought of the idea whilst queuing at Heathrow.
Christopher Moore, from the airport, said: "It's not rocket science, but the simple ideas are often the best."
The first delivery arrives at Slough Homeless Our Concern (Shoc) on Friday.
Project manager Mandy McGuire said: "The toiletries will make a real difference to our clients here at Shoc.
"Don't underestimate the positive impact of a hot shower with shampoo and body wash for a person who has been living rough."
Ms Takhar said: "How silly do you feel when you mistakenly pack your favourite shampoo and then have to hand it in at airport security?
"At least you now know that the people here will definitely put them to good use."
Mr Moore, who is facilities manager at Heathrow Airport, said: "Georgie approached us with the idea of donating the abandoned toiletries and Heathrow are delighted to support Shoc in this way."
Hand luggage restrictions at UK airports specify that liquids must not be in containers greater than 100ml.
It regularly has to confiscate items such as shampoo, suntan lotion, fragrances, and cosmetics.