Royal Berkshire Hospital likens A&E waits to 'major incident'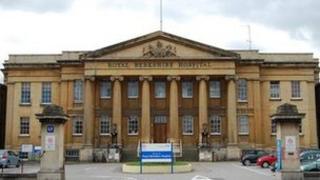 The Royal Berkshire Hospital says patients in its accident and emergency department have waited for as long as 10 hours during its busiest ever week.
On average, 230 people use the service each day, but since Wednesday, the team has dealt with 326 patients daily.
The hospital is asking non-emergency cases to stay away this weekend so staff can cope with increased demand.
Emergency department consultant Dr Lizle Blomm likened the situation to a "major incident".
Dr Blomm believes a poor weekend weather forecast will do little to help the situation.
Speaking to BBC Radio Berkshire's Phil Kennedy Show, she said: "We as staff are uttering phrases such as 'internal incident' and 'major disaster'.
'Go to chemist'
"For us that's a major problem because we are having bed issues and we don't want people to be queuing and waiting to receive the best service.
"People who do not have an urgent problem will sit in an emergency room for four to six hours minimum.
"People who don't urgently need a bed will lie on a trolley overnight.
"This week, we have had 10-hour waits for beds for people who probably could have gone and seen their GP instead."
The consultant's comments come in the wake of a report by the The Patients Association into a lack of confidence in out-of-hours GP services.
It recommended the government review the "complex and convoluted" system urgently.
Dr Blomm confirmed extra resources would be drafted in this weekend if the hospital continues to experience increased demand.
"We want to stress to people there are other options available and they should choose well, such as going to the chemist if you have a long-standing cough or cold," she said.
"We have an out-of-hours GP service on site as well as minor injury units at Newbury and Heatherwood Hospital in Ascot."