Slough is 'UK's most fuel-efficient town'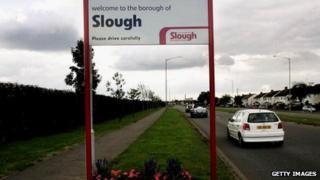 Slough is a hub of industry.
The Berkshire town is home to the highest concentration of European headquarters in the UK and is home to 4,600 organisations.
And now it has also been hailed as the most fuel-efficient town.
More than 60% of its vehicles are registered as diesel-powered compared with the national average of 33.3%, according to statistics just released from the Society of Motor Manufacturers and Traders (SMMT).
Motorway town
One theory is the town's high level of industry means a high number of staff commuting.
And with travelling comes a search for the most fuel-efficient car.
In Slough the average car tops an impressive 50 miles per gallon (mpg), according to the research.
"Slough is in the middle of three big motorways - M4, M40, and the M25," said Jonathan Visscher from SMMT, which recorded more than 31m cars on UK roads.
"People choosing a diesel car are most likely to be driving greater miles, and tend to be travelling a lot on motorways."
Franco Longobardi, sales manager at Volvo Squire Furneaux in Slough, said "probably 97% of cars" the company sells are diesel.
"We've got the Slough Trading Estate, which I think is still Europe's biggest business park and an awful lot of people come to work there," he said.
He added the town's proximity to London could also be a factor, and that diesel as a low-emission fuel enabled a London congestion charge discount.
Sales specialist Ian Tait at Slough's Windrush Volkswagen said that "predominantly" his customers "prefer diesel".
"On balance the majority of our car sales from the Golf upwards are diesel," he said.
"We're on the M4 corridor and people do tend to zip up and down the motorway up to the M25 and the M1".
Ginette Gower from the Slough Chamber of Commerce agreed with the theoretic link between the town's industry and the choice of diesel-powered cars.
"There are a lot of employers and businesses around here who provide company cars, which tend to be diesel-powered," she said.
"A lot of the companies here also have hot-desking offices, where employees travel around and come into the office maybe a couple of times a week".
According to Slough Chamber of Commerce the town is the third most productive town in the UK outside London and has a "thriving £2.5 billion economy".