Berkshire protest against Trident nuclear weapons system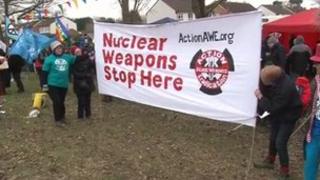 Thousands of campaigners protested against the Trident nuclear weapons system in Berkshire.
The group met at the UK's Atomic Weapons Establishment's (AWE) UK headquarters at Aldermaston earlier.
They are urging the government to scrap the UK's nuclear deterrent developed at AWE - and cancel its replacement.
The demonstration was organised by the Campaign for Nuclear Disarmament (CND) at the start of the month-long Stop Fooling With Nuclear Weapons protest.
Kate Hudson, CND general secretary, said, "The British people know that £100bn spent on building a Cold War weapons system is £100bn stolen from the coffers of other vital public needs.
"That is why a majority oppose Trident replacement.
"We have until 2016 when a parliamentary decision on Trident replacement is due to make clear to the government that jobs, healthcare, transport, education and renewable energy mean more to the people of this country than a strategically redundant, economically untenable, indiscriminate weapons system."
Keith Taylor, Green MEP for the south east, said: "If we are looking at nuclear power stations, Germany has said no, Italy has said no and yet the UK is saying maybe let's do it.
"It's bad news, it's dirty, it's dangerous and expensive. Let's take those billions of pounds and spend them on infrastructure, on jobs, and creating energy that doesn't leave a toxic legacy."
Islington North Labour MP Jeremy Corbyn, fashion designer Katharine Hamnett, and activists were also among speakers.