Berkshire colleges receive government renovation grants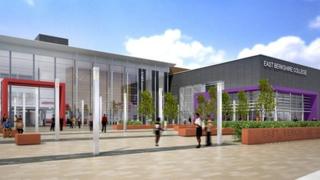 Two further education colleges in Berkshire have received millions in government funding to renovate buildings on campus.
The Berkshire College of Agriculture (BCA), near Maidenhead, will get £1.25m towards its new £2.5m technology research centre.
East Berkshire College will be given £2.88m towards its £9.3m renovation of a teaching block on its Slough campus.
The grants form part of a £214m investment in 47 colleges in England.
Skills Minister Matthew Hancock said of the Enhanced Renewal Grant that it was to "ensure" investment in "first rate facilities".
BCA spokeswoman Sarah Irving said the college was "thrilled" to receive half the funding for its upgrade plans.
"With our continued expansion in student numbers, being able to now build a much needed research centre will mean that our students will benefit from high tech, industry specific resources," she added.
The grant will be used to support specialist areas of its curriculum, including animal management and equine studies.
The centre will be finished by September 2014, Ms Irving said.
An East Berkshire College spokeswoman said it was "delighted" with the grant and that it would go towards upgrading its 1976 block with "state-of-the-art learning facilities to meet the community's current and future learning needs".
The college will also be launching a new hospitality and catering academy in September.
The grants go alongside plans for the government's new skills strategy to "support the majority of good and outstanding colleges" while intervening if colleges are failing.