Berkshire councils' creative solutions for school place shortage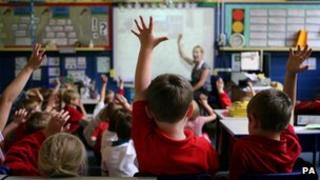 From classrooms in churches to building schools from scratch in just five months, Berkshire's councils are considering all options to create school places.
Last month the National Audit Office (NAO) said an extra 250,000 places would be needed in England by autumn 2014.
Demand is being driven by a rising birth rate and, in Berkshire, councils are being forced to innovate to cater to the number of four-year-olds starting school.
In Windsor and Maidenhead, the council is searching for "non-traditional" buildings to use as schools.
The idea came from overseas, where examples of classrooms in buildings range from a disused porcelain factory in Denmark to a former naval base in America.
Councillor Phillip Bicknell said 83% of the borough's land is in the green belt, so the council had to "think outside the box".
"Why can't we use warehouses or a parade of shops that is no longer viable as retail outlets?" Mr Bicknell said.
"Maybe we could use an old church or any other building that you wouldn't necessarily think to have as a school."
He said the scheme could be seen as "recycling" buildings, though no sites have been confirmed yet.
New schools scheme
In Wokingham, the council granted planning permission for new primary schools in Winnersh, Wokingham and Charvil on 27 March.
Building work has only just started, but councillor Charlotte Haitham Taylor said she was "confident" the schools would open as planned in September.
All three new schools will be run as academies but it has not yet been confirmed who will run two of them, though the council said it is currently considering applications.
Reading Borough Council plans to provide 300 extra primary school places this September through "additional reception classes in existing schools".
In Slough, three free schools are expected to open - but a Slough Borough Council report stated free schools are only expected to meet "some of the required demand".
The report stated the council had no plans to provide extra places over the next three years, but "discussions with primary schools were underway to identify expansion projects".
Parents' plan
Councils are not the only organisations trying to create school places.
A group of eight Wokingham parents started the Evendons Primary School group after some failed to get places for their children at the schools nearest their homes.
Group member Victoria Salmons said they hoped to open their school this September but had not yet secured a site.
Mrs Salmons said the school would take in 25 children per year and discussions with local parents had revealed demand was at least double that figure for every year until 2017.
The NAO said a 22% rise in the number of children born in England between 2001 and 2011 had caused the increased demand nationwide.
Across Berkshire - through a variety of means - councils and free school groups are racing to keep up with that demand.
The test will come later this month when parents find out if their children have got places at their chosen schools - and in September when lessons start.