Reading Station reopens after platform refurbishments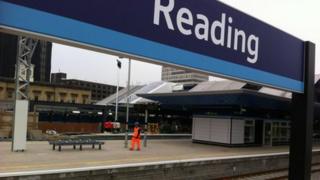 Reading Station has reopened after refurbishment work shut parts of the site over the weekend.
Network Rail handed back the railway at about 03:00 BST after relaying tracks and carrying out signalling work.
It also upgraded platforms and removed the last part of the old footbridge.
Work on the £895m project started in Spring 2011 but Network Rail's Robbie Burns said there was still a "lot of work to do".
He added: "There's 800 trains a day coming through here so this is rather like decorating your kitchen and removing the cooker and replacing it... while trying to cook three meals a day.
"This is really a stage in the process. We start working on the southern side of the station now to improve that."
'Freeing up space'
The station has four new platforms, two new entrances and a passenger footbridge with escalators and lifts providing step-free access to all platforms.
Dan Panes from First Great Western said the new station would "free up space for customers".
He added that extra staff would be on hand to help people get used to the layout.
"If you turn up and plan to get on a train to London from Platform 4 you're going to go in the wrong direction," he said.
Mr Burns added: "When you come to the station now you'll think it's huge but of course it's been designed for growth.
"We currently get 17m passengers a year coming through Reading and by 2030 we'll have twice that number, so the station's been designed to cater for those kinds of numbers."
Network Rail said work is on course to be completed one year ahead of schedule in 2015.
The Reading improvement scheme also includes the construction of a new train care depot and a viaduct to provide more room for trains.
Overhead line equipment will also allow new state-of-the-art electric trains to run.
Recent works have seen trains to London Paddington cancelled and other services severely reduced.