Greenham Common protester: Thatcher's cruise missile policy was 'madness'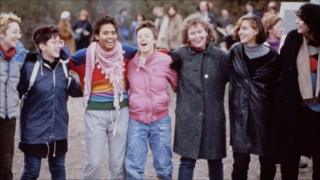 The death of Margaret Thatcher has caused one Berkshire anti-nuclear protester to look back at her time opposing the ex PM's policies.
Kathrine Jones was part of the Greenham Common women's peace camp whose mission in 1981 was non-violent action against the arrival of American cruise missiles at AWE Aldermaston in Newbury, Berkshire.
At one point 35,000 women linked arms around the American airbase while Margaret Thatcher was prime minister and the Cold War had reached its peak.
Speaking in the Commons in March 1983, Mrs Thatcher said: "It would make far more sense for those women to go and link hands around the Berlin Wall.
'I'm so proud'
"If by doing so they manage to persuade the Soviets to take it down, to remove the guns, the dogs and the mines to kill those who attempt to escape to freedom - they will be doing something.
"If they do not succeed in persuading the Soviets to take it down, they will prove that the freedom of the Greenham Common women and the freedom of all people of this country still needs to be defended."
Mrs Jones, who now lives in Wales, was imprisoned for her activities at the camp but said it would be wrong to judge Margaret Thatcher after her death.
She said: "Margaret Thatcher as an individual is different from the Margaret Thatcher with all the state power that she had.
"We worked so hard as women at Greenham Common and went through so much that it would be wrong to look at people, even Margaret Thatcher, in that way.
"She was the most powerful person in that government but we were up against a whole system.
"That system was sure that we would be turned away from our purpose.
"And that raises questions about who was really powerful in that situation, Margaret Thatcher had all the state power as head of government but we had a different kind of power."
She said when she heard Thatcher had died she felt no strong emotions.
"If I feel anything I'm so proud that I was part of the Greenham Common women's protest that really stood firm and did everything we could with non-violent direct action to oppose her policies," she said.
Women from around the world joined Mrs Jones in the all-female all-hours peace camp, where living conditions were rudimentary and especially tough in winter.
"We suffered everything the state threw at us for taking non-violent action against cruise missiles because we knew we were right," she said.
"I'm just glad that during that decade I was with such really brave women who did everything they could non-violently to stop cruise missiles - and we won."
The protests were brought to an end with the Intermediate-Range Nuclear Forces Treaty signed between US president Ronald Reagan and Soviet leader Mikhail Gorbachev in 1987, which began the drawdown of stock in nuclear weapons and meant the cruise missiles were taken back to America.