Driver Aadil Asghar jailed over Reading boy's death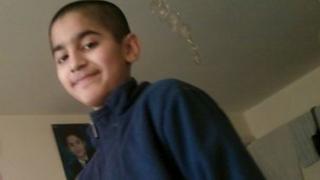 A driver who killed a 12-year-old boy on his way home from school at a pedestrian crossing has been jailed.
Harsh Dharmendra died in hospital after being knocked down in Kings Road, Reading, by Aadil Asghar on 21 February 2012.
Asghar, 25 of Rosedale Crescent, Earley, Reading, was sentenced to five-and-a-half years for causing death by dangerous driving.
He was also disqualified from driving for five years.
Asghar had pleaded not guilty at Reading Crown Court.
The court heard Asghar had cut up motorists at another junction in heavy traffic before driving along a bus lane and hitting Harsh.
Judge Stephen John said: "This was a wholly avoidable accident that caused a wholly avoidable death. Only you are to blame.
"By your actions that day you deprived a loving family of their son."
'Smiling face'
Asghar had been asked to take part in a driver improvement course after an accident in the same bus lane in 2007.
In a statement released by Harsh's family said: "He was very respectful to his family, teachers and very supportive and helpful to his sister and brother.
"He always gained good marks at school through his hard work and dedication. He took an active part in community events and festivals and enjoyed everything.
"The meaning of his name 'Harsh' is a smiling face, and he quite rightly reflected that throughout his life.
"This sad event took his smile and life away from us. His brother and sister miss him immensely.
"It is an unbearable life for parents and it makes it worse for them that they have to show strength for their other children's sake."