Reading's Friar Street artefacts analysed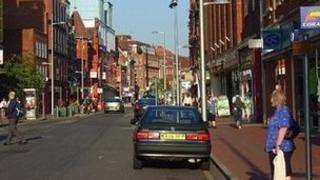 Medieval remains discovered under a road in Reading during repair works have been analysed by experts.
They include 13 shards of 13th to 14th Century pottery, 70 pieces of animal bone, 22 pieces of roof tile and 68 pieces of leather, mainly shoe soles.
The artefacts were discovered in February as work started to fix cracks in Friar Street between Greyfriars Road and Station Road.
Tony Page from Reading Borough Council called the finds "fascinating".
Mr Page, who is lead councillor for regeneration, transport and planning, said: "Only a few feet down below Reading's road surface this was there waiting to be discovered.
"If we'd given [the archaeologists] free reign, they'd still be digging."
'Not human'
The animal bones include cattle, sheep, goats, and deer. It is believed they came from a butchers.
The leather remains also point to a shoemaker once being based near the site.
A council spokesman said: "The discoveries question long-held theories that the current layout of Friar Street based on the positions of the shop frontages has been static for many centuries.
"The evidence from the investigations may suggest the road was previously much narrower."
Work had to be halted when the bones were discovered 2m (6ft 6in) beneath the road surface. Thames Valley Police deduced that they were not human.
The council's archaeologist advisor then arranged for Thames Valley Archaeological Services to record the finds.
"We were very pleased to ascertain early on that the bones were not human - which would have delayed the works by many days if not weeks," Mr Page said.
Several pieces are to be displayed at Reading Museum.