Heatherwood Hospital: Council to take legal advice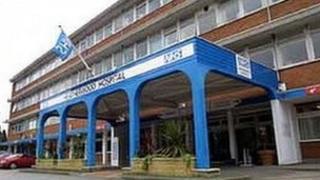 A local authority is taking legal advice over plans to permanently close a maternity unit and relocate other services at a Berkshire hospital.
NHS Berkshire will also shut Heatherwood Hospital's rehabilitation ward for stroke patients and relocate minor injuries to Bracknell.
David Coppinger, of Windsor and Maidenhead Council, said it was taking legal advice over the decision.
A Berkshire NHS spokesman said the birth centre had staffing issues.
Lynda Yong, the council's deputy lead member for health, said: "There is a groundswell of public opinion against the Heatherwood cuts.
"We must demonstrate to the health authorities that local people's views must be listened to and Heatherwood services must be protected for them and their families."
The council said 2,500 people had signed a petition calling on it to do "everything in its power" to stop the cuts at the Ascot-based hospital.
The surgical unit at Heatherwood Hospital will expand with new theatres expected to be ready for patients by 2015/16.
Berkshire NHS is yet to comment on the council's petition.
It said the closures would be implemented in January 2014, providing the new services were in place.
Surplus land and buildings will be sold off to invest in the new facilities.