London councils' housing policy 'affecting Slough families'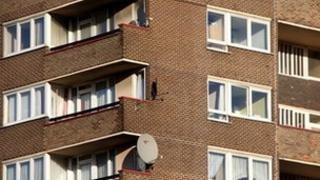 Families on Slough's housing waiting lists will find it harder to find a home if London councils keep renting accommodation there, a council said.
The Bureau of Investigative Journalism found that 100 families had been moved to Slough since 2010.
The borough council said the policy was putting further pressure on its social housing stock because many residents could not pay market rents.
The authority said it had about 7,354 households on its waiting list.
'Just not fair'
Council leader Rob Anderson said: "This is the issue that so many families are facing now across the country and certainly here, we see it all the time.
"The private side of the rental market has gone through the roof and people just can't afford to rent any more.
"Everybody is entitled to be on our waiting list but the problem is that we have one of the largest waiting lists in the south east of England.
"If you go back to 1980, we had over 14,000 properties. Today we have got less than 7,000."
Claire Webb, a mother of two who shares a box room with a bunk bed alongside her two young children, said she was "angry" that her wait for a home could take "five to 10 years".
She added: "To know London boroughs are taking properties from people in Slough, makes it harder and harder. It's just not fair."
Steve Curran, cabinet member for planning, regeneration and housing at Hounslow Council, said any placements his authority made were for emergency temporary accommodation.
He added: "This, combined with the cap in the local housing allowance and the strength of the local private rental market, means we are finding it increasingly difficult to find suitable placements locally.
"We are also seeing an increase of placements into Hounslow from other London local authorities, further reducing the amount of available stock."