Reading Thames Tower developer accused of getting 'cold feet'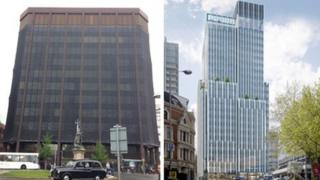 Developers planning to replace a derelict building in Reading with a 25-storey skyscraper may have got "cold feet", according to the town's council.
Thames Tower is owned by LaSalle which states on its website it would demolish the 1974 building and replace it with an "iconic new development".
But Reading council's transport boss Tony Page said he had "not seen hide nor hair of a planning application".
LaSalle said it hoped to submit an application in the next few months.
Thames Tower is near Reading station, which is undergoing an £895m redevelopment.
It is also next to the Station Hill area which is owned by another developer that submitted a planning application in April.
"It was our hope that LaSalle would also come in with a parallel application to demolish and redevelop their site," Mr Page said.
'Itching to go'
LaSalle held a four-day public exhibition of its plans in May last year but have since not made any public updates.
"They were telling the council they were itching to go," Mr Page said.
"Since then we've not seen hide nor hair of any planning application.
"We were told it was imminent before Christmas, we were told it was imminent earlier this year and now it would appear they are getting cold feet."
LaSalle would not comment on whether plans for the skyscraper were going ahead.
A company spokesman said: "We are still working on a planning application and hope to make a submission within a couple of months."
Mr Page said: "I am calling on them to deliver their public pledges they gave last year.
"They marched us all the way to the top of the hill and I hope they're not going to march us down."