Songwriter Geoff Goddard plaque unveiled at Reading University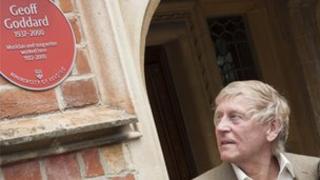 A '60s songwriter who ended his working career washing dishes has been honoured with a plaque at the university where he worked.
Reading-born Geoff Goddard penned dozens of hits, including Johnny Remember Me, sung by John Leyton, which reached number one in 1961.
He spent two decades working at Reading University's catering department before he died in 2000, aged 62.
The plaque was unveiled by John Leyton and relatives of Mr Goddard.
'Massive influence'
The university also hosted a special tribute concert, hosted by DJ Mike Read, with a performance by John Leyton.
Mr Leyton, who appeared in the film The Great Escape, said: "Geoff Goddard was a hugely talented songwriter.
"I owe an enormous amount to Geoff. He was a lovely man and I have very fond memories of our time together.
"He wrote all my hits and was a massive influence on my music career."
Mr Goddard's niece, Lorraine Walsh, said: "I think it's wonderful he's been honoured by the university and I'm sure Geoff would have been delighted.
"He loved working here and felt it was more like being amongst family rather than a job."