Legoland Windsor urged to end traffic chaos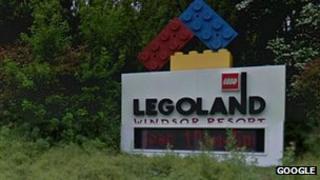 A Berkshire theme park has been urged to limit tickets to control visitor numbers following chaos on surrounding roads during half-term.
Residents of Windsor and Slough have complained about roads being blocked with cars going to Legoland Windsor.
The Royal Borough of Windsor and Maidenhead urged the park to be proactive and implement an advance booking system when the park is busy.
Legoland said it would continue to review its procedures.
The council said it was currently having talks with Legoland to end the hold-ups which residents say occur whenever the park is busy.
The popular theme park reached capacity on Friday lunchtime, the final day of the half-term break, with drivers reporting being stuck in jams for several hours.
The company blamed bad weather earlier in the week for a surge in visitor numbers. It said it had alerted the relevant authorities.
'Complete meltdown'
Andrew Griffiths, who was on holiday in Berkshire from Wales, described getting to the park as "absolute lunacy".
He reached the gates at about 13:00 BST, only to find the park had closed.
"We were sat in traffic for two hours - my daughter had a complete meltdown in the car and it was heart-breaking for my son," he said.
Susan Bailey, who lives nearby, said: "It's a very good thing, it brings people to the area and children enjoy it but it interferes with local businesses and people can't get around so easily."
Geoff Hill, the council's lead member for transport, said a system of booking tickets in advance should be implemented for the park to limit daily numbers.
"It would be one way of alleviating it and would avoid disappointment for people who queue.
"And there's social media and radio - Legoland could be very, very pro-active there."
A Highways Agency statement said it would continue working with Legoland to "help manage the impact of traffic from their activities on our network".