Swans rescued from Slough Canal after 'shots fired'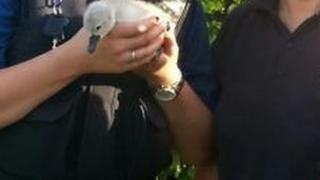 A pair of swans and four cygnets that are believed to have been shot at have been rescued by police in Berkshire.
Residents heard shots on the Slough Arm canal near St Mary's Road in Slough and called police on Tuesday.
PCSO Terrie Parker-James said: "The shots were being fired either by air pistols, catapults or other devices."
After obtaining a court order needed to remove them, it took officers and volunteers two and a half hours to rescue the swans.
'Sickening'
One cygnet was found dead in the water on Monday and an egg was also found destroyed.
The animals, which belong to the Crown, were taken to a rescue centre in Eton where they are recovering.
Wendy Hermon at the Swan Lifeline centre, said: "This is the second family that have been shot at in three weeks. It's sickening, it's so sad."
Ms Hermon said a female swan that was shot while on its nest died on Wednesday due to lead poisoning.
Swans are protected birds and the Crown retains the right to ownership of all unmarked mute swans in open water.
Killing or injuring them is punishable by a six-month prison term and/or a fine up to £5,000.