Swans rescued from Thames oil spill set to return to river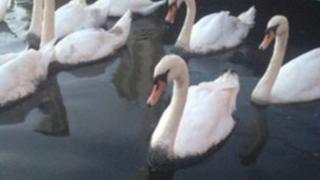 More than 100 swans rescued following an oil spill on the Thames are set to be returned to the river near Windsor.
Volunteers helped save about 110 swans following the spill, which happened between Windsor Bridge and Eton Bridge on Friday night.
The swans have been cleaned with washing-up liquid at the charity Swan Lifeline in Eton and fed charcoal to neutralise any oil they have ingested.
Centre co-ordinator Wendy Hermon said they were to be released on Tuesday.
Ms Hermon said: "They all seem healthy. We would just like to keep them in tonight but hopefully they can go back tomorrow.
"We've had a call to say there are about three or four more that have got oil on them on the same stretch so we are going to take a look."
Thames Water crews were called out to investigate the spill at about 22:30 BST on Friday.
Ms Hermon described the spill as one of the worst she had ever seen.
The Environment Agency said it could have been caused by illegal fly-tipping of oil into surface water drains before making its way into the river.
The exact cause is still being investigated.