Heatherwood Hospital judicial review call disappoints NHS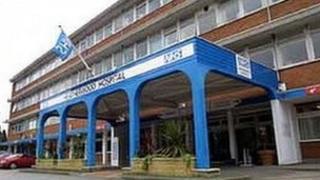 The NHS in Berkshire has said it is "extremely disappointed" at calls for a judicial review into the planned closure of a minor injuries unit.
Royal Borough of Windsor and Maidenhead Council is to challenge plans to close the unit at Ascot's Heatherwood Hospital and move it to Bracknell.
Local NHS commissioners said the challenge could hamper plans to expand other services in the area.
Heatherwood Hospital's minor injuries unit is due to close in January 2014.
Under the plans being implemented by East Berkshire Clinical Commissioning Groups (CCGs), an urgent care centre would be established in Bracknell.
A stroke rehabilitation ward and birthing centre at Heatherwood Hospital would also close.
Since the announcements, more than 3,400 people have signed petitions against the plans and the local authority has applied for a judicial review into the decision.
'Increasing pressure'
Dr Adrian Hayter, chairman of Windsor and Maidenhead CCG, said: "These plans have been developed by local GPs in partnership with local hospitals and the community.
"This challenge comes at a time when accident and emergency services are under increasing pressure."
Heatherwood Hospital's surgical unit will expand with new theatres expected to be ready for patients by 2015-16.
"A legal process could put that development at serious risk," said Dr William Tong, chairman of the Bracknell and Ascot CCG.
"A state-of-the-art surgical centre is critical for local patients."
Councillor Lynda Yong, Windsor and Maidenhead Council's cabinet member for health, said: "The consultation should have given residents a real choice between whether they wanted to keep the minor injuries unit or have an urgent care centre at Heatherwood, led by GPs.
"The decision was made to move it to Bracknell as they had been asking for it for a prolonged period of time."