Specialist dementia unit opens in Berkshire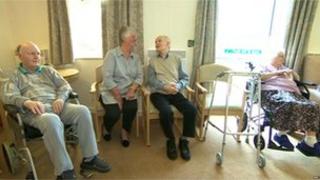 A £350,000 specialist dementia unit has opened in Berkshire.
The new 11-bed unit at Walnut Close Resource Centre in Brownsfield Road, Thatcham, has been funded by the government.
West Berkshire Council described dementia as an "increasing issue" and said the new unit would "help enormously".
About 800,000 people in the UK have a form of dementia, according to Alzheimer's Society.
That figure is expected to rise to more than 1.5m over the next 30 years.
Joe Mooney, the council's executive councillor for community care, said: "Dementia is an increasing issue and can be very distressing for those suffering and for their families. The new unit will help enormously."
He said the council would continue to invest in social care and added there would be more than 100 extra beds for people with a range of needs, including patients with dementia, in west Berkshire by the end of the year.