Emma Ryan's art to revamp Maidenhead subway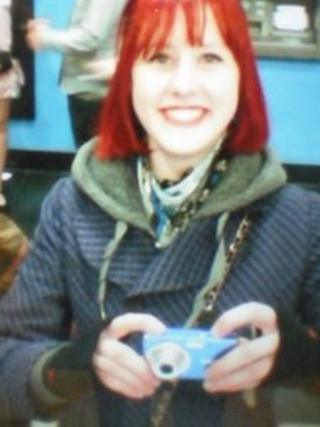 A 23-year-old lorry driver and part-time artist has been commissioned to revamp a Berkshire town's subway.
Emma Ryan, who makes patterns by cutting paper, will have her designs scaled up in galvanised steel as part of a £197,000 project in Maidenhead.
Ms Ryan, who is receiving her first commission, said: "I was absolutely gobsmacked... it's a huge opportunity."
She will work on the St Cloud Way subway and experienced artist David Ward on the Town Moor subway.
Maidenhead resident Ms Ryan is working with the town's Art on the Street team, and will be swapping a scalpel for a laser for the new project.
During the day she delivers chef uniforms in 18-tonne HGVs.
'Captivating designs'
She said: "I'm looking at it almost as an apprenticeship because so many artists put themselves forward to public arts commissions for years and years and don't get any success.
"For me to go into my first one ever and be accepted is absolutely huge and I'm having a lot of support given to me.
"It took me by surprise because I didn't think I'd actually get it. Now it's actually happening it's incredible.
"It's going to be a massive learning curve."
Marie-Anne Leonard, of Art on the Street, called it a "proud moment".
"The council haven't ever engaged a local team to do public art on this scale before," she said.
The cost to revamp each subway is £60,000.
The subways at Frascati Way and West Street will also be renovated at a cost of £77,000.
Councillor MJ Saunders, of Windsor and Maidenhead council, said: "We had a very high level of interest from public artists and the standard of their work was impressive - so the two successful submissions were top quality indeed.
"We are looking for captivating designs that will engage with pedestrians and make these underpasses a truly attractive route to and from the town centre."
The new works will be unveiled in April.