Bray 'Hammer Horror castle' attracting strong interest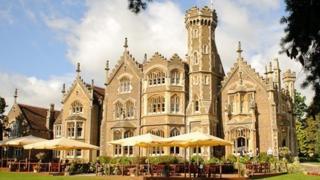 Sellers for a gothic country house once used as the set for Hammer Horror films have reported "phenomenal" interest.
Oakley Court Hotel in Bray, Berkshire was placed on the market earlier this month after going into administration.
Agent Colliers International has invited prospective buyers to table their interest by 23 August.
The former private residence, most recently a 118-bedroom four-star hotel, featured in 1960s films The Brides of Dracula and The Plague of the Zombies.
The building was also used as Frank N Furter's castle in The Rocky Horror Picture Show in 1975, as well as the film set for The Belles of St Trinian's in 1954.
Recently, it was home to several members of Team GB during the London 2012 Olympic Games.
Agent Julian Troup said: "Oakley Court is one of the most impressive hotel assets that has come to the market in recent years. We're confident a favourable result will be achieved."
The sellers have declined to state the asking price or the number of people to express an interest.