Bid made to buy Caversham closed care home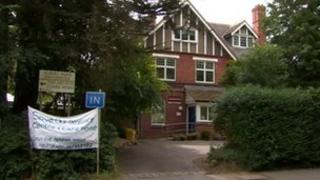 An attempt by campaigners to buy an empty care home is being considered by the authority that voted to close it.
Residents left the Arthur Clark care home in Caversham after Reading Borough Council decided to close it in July.
Family members collected 3,500 signatures on a petition in a bid to save the home, which the council said needed refurbishments costing £1.1m.
The application would give campaigners the chance to buy the site should it be put up for sale in the future.
Borough councillor Mark Ralph has submitted the bid to buy the home alongside local resident Lu Cozma.
Mr Ralph said: "The site is important within the area.
"There's some of the oldest age profile wards in Reading around it, so there's a huge local market of elderly people and this is a valuable resource that should not be closed."
Ms Cozma added: "The bid is to bring a needed facility back into the community and we're looking to fund it through investors and businesses."
If successful, the group plans to look for a care home provider to manage the facility alongside a day facility for its own residents and the community.
Councillor Rachel Eden, who runs adult social care for Reading Borough Council, said: "I'm pleased to see the group are showing a strong interest in the site.
"I hope both the council and the community can work together on its future."