Ufton Nervet level crossing changes 'overdue'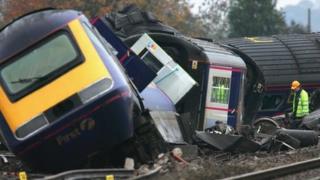 The Office of Rail Regulation says changes to a level crossing where eight people have died need urgent attention.
Seven people were killed in a crash at Ufton Nervet in 2004 and another person died there in May last year.
A proposed road bridge is yet to be built but Network Rail says it is in the process of finding a "solution".
The Office of Rail Regulation's chief executive, Richard Price, said: "Nine years since a tragic accident is an awfully long time to wait for action."
Ufton Nervet level crossing, in Berkshire, was earmarked to be replaced by a road bridge following support from the local council last November.
But negotiations to purchase land are still taking place.
'Impatience'
A Network Rail spokesman said: "At present, discussions around land acquisition and design are progressing simultaneously as the two are mutually linked.
"However, early indications show a solution is likely to be confirmed in the new year."
Network Rail said it had been liaising with West Berkshire Council on a timescale to build the proposed bridge.
Mr Price said the crossing was a "high-priority case" for Network Rail.
"Network Rail has been under pressure to improve the speed at which it acts around planning and land acquisition," he said.
"Impatience at the speed in which these things are resolved is perfectly understandable."
Local MP John Redwood called the delay "deeply disappointing", but admitted he was not surprised.
The Office of Rail Regulation has announced additional funding to close around 500 level crossings and improve safety at hundreds more.