Work starts on £300,000 Berkshire canal refurbishment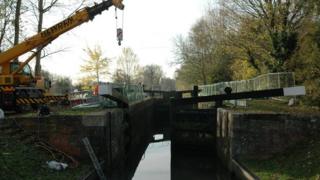 Work has started on a £300,000 refurbishment programme a stretch of the Kennet and Avon Canal in Berkshire.
Divers from the Canal and River Trust have started draining the lock and removing fish at Tyle Mill, near Aldermaston.
The trust will also repair walls, locks and gates at Reading and Thatcham.
Work at Tyle Mill should be completed by the third week of December. Other projects across Berkshire will be go on until March 2014.
"Divers wade in with stun guns that temporarily stun the fish, allowing us to scoop them up and put them safely in another section of water," a trust spokesman said of the work at Aldermaston.
"Finally a crane will be used to lift out the two front lock gates and replace them with hand crafted new ones.
"They weigh about two tonnes each."
The work is part of the trust's £45m annual programme of repairs and maintenance of waterways across the country.