Dedworth Middle School pupil dies of meningitis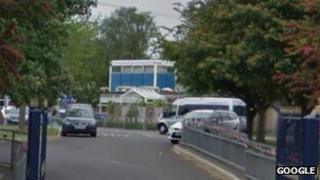 A child has died from bacterial meningitis in Berkshire.
Windsor and Maidenhead Council confirmed the victim was a pupil at Dedworth Middle School in Windsor, calling it a "very tragic case".
Public Health England said antibiotics had been offered to members of the child's family and others who had had close contact.
The age and gender of the child, who died last week, has not been confirmed.
Dedworth Middle School teaches pupils aged 9 to 13.
'Deeply affected'
A council statement said the pupil had died "suddenly".
It added: "The Royal Borough has extended deepest sympathy to the family and friends... the entire school community has been deeply affected and the council has been supporting the school to help both pupils and staff to come to terms with their loss.
"The educational psychology team went into the school the following day to offer immediate support, and this service remains available to those who need additional help throughout this very sad time."
The Department of Health agency said: "Letters have been sent to parents of children attending the school informing them of the situation and reassuring them that the risk of any further cases is extremely low.
"The bacteria do not spread easily and those who have had prolonged, close contact with the person with meningitis/septicaemia are at a slightly greater risk of getting ill.
"These people have been identified and given antibiotics to stop the bacteria spreading."