Reading 'poor' primary school results probed by Schools Minister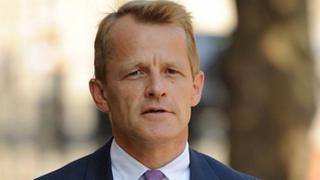 The Schools Minister has dubbed primary education in Reading "disappointing" and said he will raise the performance with the Chief Inspector of Schools.
David Laws plans to discuss results at Key Stage 2 with Ofsted's Sir Michael Wilshaw after the Reading East MP highlighted the issue in parliament.
Mr Laws said Reading's 2013 results had "dropped significantly" below the national average.
Reading Borough Council said it would work closely with the government.
Pupils 'sold short'
Conservative Reading East MP Rob Wilson has blamed the Labour-run council as it runs 26 of the 35 primary schools in the Berkshire town.
He raised a debate in the House of Commons after results from schools regulator Ofsted showed 5,500 out of 13,000 children were in Reading Borough Council schools and academies that "required improvement or were rated inadequate".
Ofsted regional director Matthew Coffey said there were "worrying weaknesses" in Reading's education provision.
He said he was also concerned about Reading's high fixed-term exclusion rates and "inadequate" children's centres in East Reading.
Lib Dem Mr Laws said in parliament Reading was ranked 116th out of 150 local authorities for percentage of pupils attending a good or outstanding primary school.
Key Stage 2 results for pupils at the end of primary school showed Reading stood at 69% in 2013 - a drop from 73% in 2012, he said.
The national average is 75%.
"This government obviously has a clear opinion on how schools should be governed," said Councillor John Ennis, member for education at Reading Borough Council.
"We obviously need to work within that framework, as does every council.
"I'd like to focus on raising the level of success for our pupils.
"We can achieve this through improved teaching, targeted support for those who need it, coupled with pupils' own hard work and transparent decision making by the council."
Mr Wilson called on the Government to ensure Ofsted played "a stronger role in inspecting and regulating local authorities".
He said pupils were "being sold short" and their future prospects "put at risk".
He added: "For too long, Reading Borough Council has been lacklustre as a local education authority."