Heatherwood and Wexham Park: Patients inform hospital checks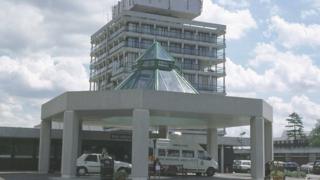 An event is being held to gather public opinions on two Berkshire hospitals ahead of inspections later this month.
Patients and residents are being asked their views on Heatherwood Hospital in Ascot and Wexham Park Hospital, Slough.
The 'listening event' in Ascot will inform the Care Quality Commission (CQC) inspection on 11 February.
Last month, Heatherwood and Wexham Park Hospitals NHS Foundation Trust was ordered by the CQC to make "urgent improvements" at Wexham Park.
Inspectors found the hospital "failed to protect the safety and welfare of patients".
Overall rating
England's chief inspector of hospitals, Sir Mike Richards, said: "Of course we will be talking to doctors and nurses, hospital managers and patients in the hospital, but it is vital that we also hear the views of the people who have had care at Heatherwood and Wexham Park Hospitals NHS Foundation Trust, or anyone who wants to share information with us.
"This will help us plan our inspection, and so help us focus on the things that really matter to people who depend on this service."
The event, at Jaqz, in Station Hill, is due to begin at 18:30 GMT.
A second listening event will take place at Wexham Park Golf Centre, Slough, on 12 February.
A full report of the inspectors' findings will be published later in the year.
The trust is one of the first to be inspected under changes introduced by the CQC whereby hospitals will be given an overall rating of either 'outstanding', 'good', 'requiring improvement' or 'inadequate'.