Royal Berkshire NHS Trust faces no action over A&E waits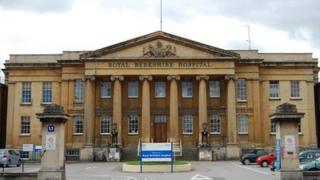 No formal action will be taken against Royal Berkshire NHS Foundation Trust for breaching accident and emergency (A&E) waiting times.
Health regulator Monitor launched the investigation in August after the trust breached the NHS's four-hour waiting time target three times in 21 months.
It said the investigation had now closed but it would continue to work with the trust.
It said the trust was taking action to improve the way it is run.
According to the A&E waiting times target, at least 95% of patients should be seen within four hours.
Monitor said it was concerned that Royal Berkshire's persistent failure to meet the target might indicate wider problems with how the trust was run.
Cancer waiting times
The trust said its board approved an £800,000 A&E expansion scheme last month to enable more patients to be seen at the same time.
It said the expansion would provide 10 additional "majors bays" for serious injuries. It is expected to take nine months to complete.
The trust said it would not provide a permanent solution but offered "much needed improvement while the funding for a long term solution is found".
Chairman Stephen Billingham said the trust recognised there were "still issues to address".
Monitor was also investigating other issues at the trust, including waiting times for cancer patients and the number of Clostridium difficile cases.
The trust previously said the investigation was not linked to the quality of care it provided to patients.
Paul Streat, regional director at Monitor, said: "We have looked very closely at how this trust is being run and we have decided that its management is taking the necessary steps to improve its performance for patients."