Reading to name street after WWI hero Trooper Potts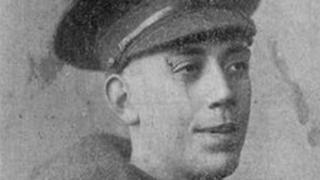 A street in a World War I hero's home town is to be named after him.
Trooper Fred Potts, known as "the hero with the shovel", won the Victoria Cross in 1915 and is Reading's only holder of the medal.
His granddaughter Anne Ames said the family were "delighted that Fred is to be remembered by his home town in a way that is visible to all".
Trooper Potts Way is due to be unveiled opposite the town's station on Saturday 5 April.
On the same day Reading Museum will open its Reading at War exhibition, which will have Trooper Potts' Victoria Cross on display.
He won the medal for rescuing comrade Arthur Andrews during the Gallipoli campaign.
He and Andrews were injured while advancing on the Turkish line in August 1915 and hid below the Turkish trenches for two days.
Eventually Potts, who had been shot in the thigh, used a shovel as a sledge to drag the badly injured Andrews to safety.
Fund-raising is under way for a statue of Trooper Potts in the town centre.
Richard Bennett, from the Trooper Potts Memorial Trust, said about £62,000 of the £160,000 needed had been raised so far.