Villagers' anger over Eton Wick sewer flooding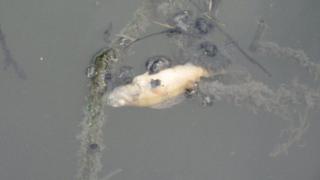 Residents want answers as to why wastewater was pumped into streams surrounding their village.
Villagers in Eton Wick said they were surrounded by an open sewer for months, dubbing the smell the "great stink".
Resident Geoff Low said he hoped a public meeting on Tuesday would see Thames Water "re-engineer the discharge" in the future.
Thames Water has apologised and said the discharge was made under exceptional weather conditions.
The water firm said the discharge from the sewage works began in December and ended on 11 March.
'Devastating effect'
Discharges had to be made after floodwater inundated the sewer network in Slough to stop sewage backing up in the pipes and coming out into people's homes, the water firm said.
According to residents the firm had an "innate inability to grasp the devastating effect their actions" - the pollution led to the death of fish and wildfowl, as well as water with "clear evidence of solids".
The water firm said the river banks on a section of stream running along the back of residents' homes and the river were due to be cleaned using an "aquatic Hoover".
The Environment Agency said it was investigating Thames Water over the discharge into the village watercourse.
The public meeting, chaired by the council, will be attended by Thames Water and the Environment Agency at Eton Wick School next Tuesday, 8 April, from 19:30 BST.