Heatherwood Hospital's minor injury unit to close permanently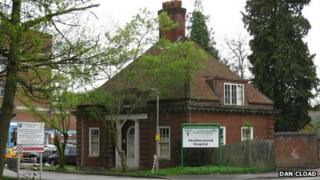 A minor injuries unit in Berkshire will close permanently later following an NHS decision to redevelop the site.
The unit at Heatherwood Hospital in Ascot will be relocated to Bracknell Urgent Care Centre at Brant's Bridge.
Last year Royal Borough of Windsor and Maidenhead Council tried to persuade the health secretary, Jeremy Hunt, to reverse the decision.
Campaigners had also fought to keep it open. More than 3,000 people signed petitions protesting against the plans.
The unit opened in 1996 and will close its doors to patients at 22:00 BST.
'Excellent care'
Trust chairman, Mike O'Donovan said: "It is with regret that we have to say goodbye to the fantastic staff who run our Minor Injuries Unit.
"It has for many years provided an outstanding service to the local population, and as a local resident I have experienced that excellent care first-hand."
In 2012, NHS bosses confirmed plans to redevelop Heatherwood Hospital, which had been previously been threatened with closure.
As well as relocating the minor injuries unit, the Clinical Commissioning Group also announced the closure of the hospital's stroke rehabilitation ward and birthing centre.
The birthing centre has been shut since 2011 due to staffing issues.
Bracknell Urgent Care Centre will be run by One Medicare and will be open 365 days a year from 08:00 to 20:00.