Reading's King's Meadow Baths emergency repair work agreed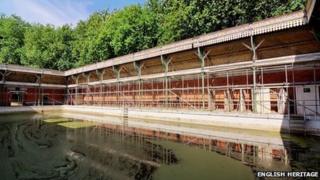 Emergency repair work has been agreed by councillors to secure the future of a Grade II listed lido in Reading.
Proposals to fix the roof and preserve historic features of King's Meadow Baths were submitted by developers.
Thames Lido said the work was necessary to ensure it could carry out a £3m renovation to turn the Edwardian lido into a spa complex.
Reading council approved the application, subject to a bat survey, on Wednesday.
A borough council ecologist believes the baths have a high potential to be home to roosting bats due to their location next to the river, their age and their dilapidated state.
Arne Ringner, from Thames Lido, said the interim work was required to make sure no more of the building was lost before the final proposals for the site were submitted.
He said: "It is falling down as we speak, bit by bit, so the sooner we can start to preserve what is there and protect the aspects that shouldn't be ruined any further, the better."
'High priority'
He added that the company was "very close" to applying for full planning permission for the scheme.
The initial work will include the removal of the decorative softwood fascia mouldings from the 111-year-old baths. These will either be repaired or replaced with like-for-like designs.
It will also involve repairing the roof and strengthening the structure of the building, as well as installing temporary guttering.
In October, the council selected the spa complex as its preferred choice for the renovation of the baths, after putting a 250-year lease out to tender.
Community group King's Meadow Campaign had endeavoured to renovate the lido but only raised £10,000 in two years.
A council spokesman said: "King's Meadow Pool remains a high priority for us because of the significance of this local landmark."