Sinkhole opens up in Enborne Road in Newbury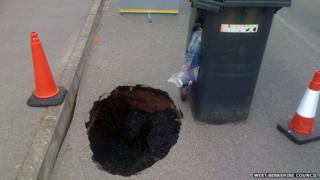 A section of a road in Newbury, Berkshire has collapsed revealing a large sinkhole.
The hole, on Enborne Road, measures 3ft (1m) deep and 2ft (60cm) wide.
The road has been closed both ways between Kingsbridge Road and Skinner's Green Lane - motorists are being diverted via the A4.
West Berkshire said its engineers had been called in to assess the damage caused by the cavity, but the timescale for repairs was unknown.