Birthday Honours: Target Ovarian Cancer founder made MBE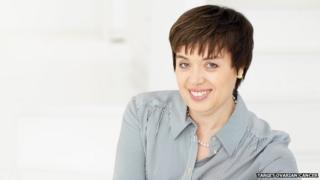 A woman who founded an ovarian cancer charity after her mother and sister both died of the disease has been made an MBE in the Birthday Honours list.
Joanna Barker from Bray, Berkshire set up Target Ovarian Cancer six years ago.
"I feel greatly honoured, and I am sure my mother and sister would have been absolutely delighted," she said.
Others honoured in Berkshire include England Women's Cricket Team captain Charlotte Edwards and head of Wellington College Anthony Seldon.
'Died six weeks apart'
Mrs Barker, 56, campaigns to improve early diagnosis after her sister Sarah James's ovarian cancer was initially thought to be irritable bowel syndrome - even though their mother was already suffering from the disease.
They both died in 2005 within six weeks of each other, with Ms James aged only 40.
"I founded Target Ovarian Cancer so that other women may not have to experience what they did," Mrs Barker said.
"The charity is dedicated to saving lives, and to helping all women in the UK who are touched by the disease to live their lives to the full.
"I will be particularly pleased if this award can help to raise awareness about our work."
Cricketer honoured
Cricketer Ms Edwards, who is based in Wokingham, has been appointed CBE this year for services to cricket. Ms Edwards led her team to back-to-back Ashes series wins against Australia.
An MBE has been awarded to her vice-captain Jenny Gunn.
ECB Chief Executive, David Collier, said: "On behalf of everyone at the ECB, I would like to pass on our sincere congratulations to Charlotte Edwards and Jenny Gunn on their CBE and MBE awards.
"This is fitting recognition for both players after leading the England women's side during an exceptionally successful 12 months for the team."
Ms Edwards became an MBE in the 2009 Birthday Honours.
Others receiving an MBE are John Symons from Newbury for founding Cancer Of Unknown Primary Foundation and David Arvin Shaw for services to scouting and to the community in Windsor.
Foster carers Anthony and Sarah Tarrant from Slough have been appointed MBEs for services to children and families.