Work on the new Oldfield Primary School delayed by slow worms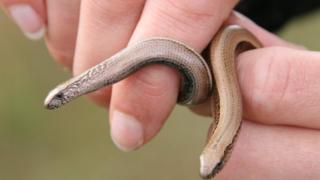 Work to build a school on green belt land in Berkshire was delayed by the discovery of slow worms on the site.
Oldfield Primary School in Maidenhead is relocating from Chiltern Road to Bray Road and increasing its intake from 240 to 420 pupils.
Preparation of ground work stalled after a colony of slow worms was found on the site and ecologists had to be called in to help.
The reptiles have now been moved to safety and work has restarted.
Slow worms are a protected species and it is an offence to kill or injure one in the UK.
Growing demand
The new school is due to be open by September 2015 and will have space for 60 children in each year group.
Although initial work was delayed, the building is set to be completed on time, Windsor and Maidenhead council said.
Approval for the £10m scheme was given, despite it being on green belt land, to meet a growing demand for school places in the borough.
The current school will use temporary blocks to accommodate new pupils until it relocates.
Richard Jarrett, head teacher at Oldfield, said: "All the staff and children are excited that the work has finally started and our new school will soon start to take shape.
"We have involved the children in the process - including learning a little about the slow worms - and look forward to the pupils playing a key part in the grand opening next year."