Royal Berkshire Hospital medical records 'risk patient care'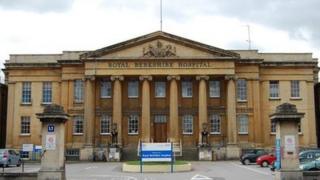 Patient care is being put at risk at a Berkshire hospital because of its handling of some medical records, a medical watchdog has found.
The Care Quality Commission (CQC) inspected the Royal Berkshire Hospital after £28m was spent on a new computer system.
But inspectors found records were not always available, creating a risk patients would not get safe treatment.
In a statement, the hospital said the report showed a "mixed picture".
The report, based on the CQC's first inspection of the hospital, gave it a "requires improvement" rating.
After discovering that medical records were not always available when needed, the report said: "This created a risk that patients would not receive safe and effective care and treatment."
'Not visible'
In August 2013, it was revealed the trust had spent £28m on its new computerised patient records system - £18m more than was necessary, according to auditors.
Chief Executive Ed Donald resigned in December following criticism of the overspend and the report highlighted a "lack of consistent leadership" at the trust.
A new permanent chief executive, Jean O'Callaghan, is due to take up her post later in the summer.
Managers were described as "not visible enough", with five of the 11 executive positions being occupied by interim staff.
Staff at the Children's A&E department and the intensive care unit were among those singled out for praise by the CQC report.
The report also highlighted low staffing levels at the midwifery-led maternity unit. As a result, two beds were closed.
England's chief inspector of hospitals, Prof Sir Mike Richards, said: "We hope that the appointment of a new permanent chief executive will lead to improvements in governance processes, which we found were not robust enough.
A hospital statement said it was already taking action in recruiting more permanent nursing staff and managing medical records.