Staffordshire Bull Terriers attack man and woman in Thatcham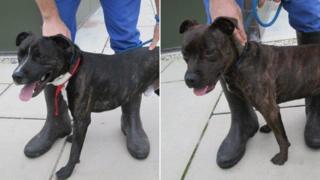 Two dog walkers suffered serious cuts and puncture wounds to their arms and hands when they were attacked by two "dangerously out of control" dogs roaming free on a field in Berkshire.
The man and woman and their pets were set upon by two Staffordshire Bull Terriers between Hartshill Road and Simmons Field in Thatcham.
The dogs needed urgent treatment while the people were taken to hospital.
The two terriers, without collars, were found by police and seized.
Police, who are appealing for witnesses to the attack on 18 June, believe the owners live in the Mount Road area of Thatcham.
PC Patrick Fleming said: "This was a serious case of dogs being dangerously out of control... causing injury to members of the public and their animals."