Reading to get £1.15m of leisure centre improvements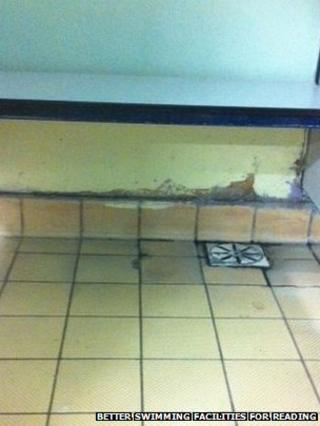 A leisure centre in Reading is set to have £1.15m of improvements, after unhappy residents started a petition.
Reading Borough Council has drawn up plans for Rivermead Leisure Centre to replace a turf pitch and refurbish the swimming pool's changing facilities.
Residents fed up with the centre's run-down facilities began the petition in March
Clare Newman, who set up the petition, which was signed by more than 800 people, said: "We are over the moon."
The council said work on the new pitch was due to start in the summer, in time for the new football season in September.
The pool changing rooms will be refurbished over the Christmas period.
New boilers will also be installed before the winter.
'Facilities are dated'
Mrs Newman, who also set up a Facebook page where residents posted pictures of the facilities, said: "My only disappointment is that Rivermead initially told us that work to the changing room would be completed ready for the summer holiday programme.
"However I like that councillor Paul Gittings has said that they would also look at redeveloping some of the other leisure facilities in the town."
The work will be funded by the council and carried out by Greenwich Leisure Ltd, which runs the centre.
Mr Gittings, the council's lead member for culture, sport and consumer services, said: "We are actively looking at how we might improve other sports and leisure buildings and facilities across the borough.
"Some of these facilities are dated and we are actively investigating options for investment."