Street lights in Reading will be switched off to mark World War One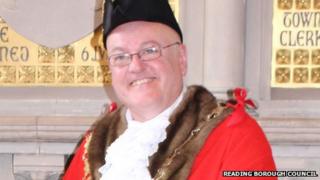 Street lights in Reading will be turned off to mark the 100th anniversary of the night that Britain officially entered World War One.
The lights in Town Hall Square will be switched off for an hour at 22:00 BST on Monday, as part of the nationwide Lights Out event.
The Mayor of Reading Tony Jones put forward the idea after a discussion with a resident.
He said it would be a tribute to those who had made "the ultimate sacrifice".
Vigil
The Royal British Legion is asking householders to turn out their main lights between 22:00 and 23:00 and replace them with a single light.
This will represent the words of Sir Edward Grey, British Foreign Secretary at the time, who said: "The lamps are going out all over Europe; we shall not see them lit again in our lifetime."
A single light will be switched on in Reading Town Hall's Silverthorne Room.
At the same time, Mr Jones will lead a candle-lit vigil at the war memorial outside Forbury Gardens, along with British Legion representatives.