Wokingham street lights being replaced in £12m scheme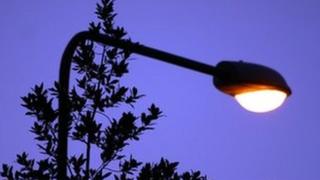 A Berkshire council is to borrow £12m to replace thousands of its street lights.
Officers at Wokingham Borough Council say the lights are at the end of their working life, after two collapsed in the last year.
Councillor John Kaiser, who is responsible for planning and highways, said replacing more than 7,000 lights was important for safety reasons.
He added replacing the lights will save money in the long run.
The current street lights are between 20 and 25 years old.
'No taxpayer impact'
Mr Kaiser said: "Street lights are an important part of modern society but, at the same time, we have to make sure they are safe and this is obviously one of the drives behind it."
The council is still considering different options to finance the scheme, including borrowing the money from the Green Investment Bank.
However it is not expected to have an impact on the taxpayer, as Mr Kaiser said the changes will actually reduce costs.
Officers believe it will make savings of £14m over the 20 year term of the loan.
Mr Kaiser said: "An awful lot of the street lights we have got have reached the end of their useful life.
"With the new technology it's given us the opportunity to change these lights at almost no cost at all, because of the savings made in the electricity they consume.
"We will be making that money back, and more, because of the maintenance of the LED bulbs which are made to last a lot longer."