Work starts on flood defences in Purley-on-Thames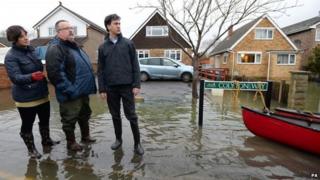 Work to build new flood defences in a flood-hit Berkshire village is to begin later.
The Environment Agency will build a five-metre wide embankment, or "earth bund", to the north of Wintringham Way in Purley-on-Thames.
Back in February, about 70 homes in the village were affected by the worst floods in Berkshire's history.
Labour leader Ed Miliband described the flooding as a "wake-up call" after visiting the village in February.
The Conservative MP for Reading West Alok Sharma said the flood defences had been "a long time coming".
'A bit of screaming'
Proposals for the bund were discussed by the Environment Agency at a public meeting Mr Sharma organised in March.
Work has already been completed on a pumping platform by River Gardens, which will help prevent erosion of the riverbank and allows pipes to be secured firmly in place when flooding does occur.
Mr Sharma said: "It has taken a lot of prodding and even a bit of screaming from me, but I am delighted that we now have the green light for works to start.
"After severe flooding over many years, my Purley constituents will be relieved that a scheme is finally being delivered which I hope will help to alleviate some of the impact of flooding on local homes."