Fraud councillor Lesley Hayward 'faces suspension'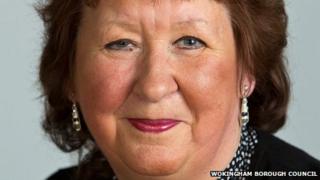 A councillor who admitted benefit fraud has said she will not appeal against her suspended sentence.
Lesley Hayward was given a four month sentence suspended for 12 months at Reading Magistrates' Court on Friday.
Under Electoral Commission rules, she now faces suspension as a councillor on Wokingham Borough Council.
Ms Hayward, 63, who sits as an independent, told the authorities she lived alone when she lived with her partner.
She previously admitted two counts of knowingly failing to declare a change in circumstances to the council and the Department for Work and Pensions and one of making a false statement to obtain Pension Credit.
'Very hurt'
Ms Hayward, who says she has paid back the money she owed, said: "I wouldn't like to resign as I feel I have done a lot of good work for the people in my constituency.
"There was no intent to defraud the system. If I was disqualified, I would have to take that in my stride.
"I feel very hurt as I am not a fraudster. I was very proud of being a councillor."
She said she did not intend to appeal against her sentence.
Keith Baker, Conservative leader of the borough council and representative on Woodley Town Council, said: "Any councillor whose behaviour oversteps the line of decency should take appropriate action to reconsider their position."
Andy Couldrick, chief executive of Wokingham council, said a position on the council would be declared if Ms Hayward did not appeal against her sentence within 21 days.