Trees cut down in Maidenhead Waterways project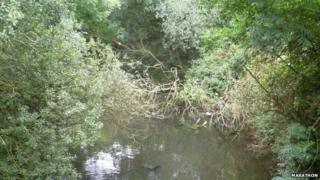 Fifty trees are to be cut down as part of a £2.1m project to improve Maidenhead's waterways.
The trees overhanging and growing on the banks of York Stream are expected to be completely removed in the next three weeks.
Their removal is also necessary so works can start on the Stafferton Way link, due to begin in November.
A survey found many of the trees were in "poor condition" and had slipped into the channel.
Philip Love, chairman of Maidenhead Town Forum and principal member for Maidenhead regeneration, said: "While it is always sad to remove a tree, future benefits to Maidenhead residents will be an attractive waterway and a much-needed and long overdue link road."