New Zippos circus showmen sites in Enborne opposed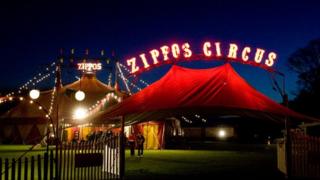 Plans to let more circus workers live in a Berkshire village should be dropped, the parish council has said.
The site in Enborne, which is the Zippos Circus Headquarters, already has permission for four showmen's caravans.
West Berkshire council has proposed 20 extra plots for travelling show people on the site.
Enborne Parish Councillor Alan Croney said: "It's the increase in the size that worries us, it could increase the population in the parish by 20%."
The council said it was also concerned the infrastructure of the village would not be able to cope with the increase.
Mr Croney said: "It could be much wider, it could grow - this is a very small rural parish. We don't have anything against travelling show people, we are concerned the needs of the show people won't be met on this site."
Circus specific
The site currently has permission for four mobile homes to be on the site permanently and an unspecified number can stay on the land for up to 28 days.
Director of Zippos Circus, Martin Burton, said: "It's my land to house my showmen. I own 50 acres in the Enborne Valley, the increase would take a little over 10 acres so it's a small proportion.
"I believe that residents are concerned that they will get other travellers other than showmen on my site - I would not offer accommodation to anyone other than circus folk - the planning consent, if it comes will be specific to circus showmen."
A seven-week consultation period on the proposals closes later.
The council is expected to prepare a detailed plan to go before full council in December.